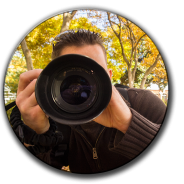 Blake Rudis is a self-published author and the host of f.64Academy. While his focus has been strong in HDR photography for the past 5 years or so, he is most passionate about post-processing images in Photoshop and mentoring others. 
Blake takes great pride in his Fine Art background. From Acrylic and Oil Painting to Printmaking and Sculpture he has had his hands in just about every art form. This has been paramount in shaping his ideologies on Photography and Post Processing. For Blake, it is not about the act of photography, but the artistic process as a whole.
                University of Delaware: BFA   Concentration:  Printmaking
                San Jose State University:  Continued Education in Ceramics Post Graduation
                2016 – Out of Chicago – Chicago, Illinois
                2016 – 2017 Richard Stomberg's Chicago Photography Classes (RSCPC) – Chicago, Illinois 

                2014 – 2017 – Digital Dimensions and Beyond, Kansas City Camera Club               

                2015 - 4C's Convention – Walla Walla, Washington


                2017 - The Creative Mechanic - RSCPC
                2015 – The Oregon Coast Experience
                2016 – Yosemite in Spring
                2016 -  Beyond Comprehension – RSCPC
                2013: The DSLR Survival Guide
                2013: 11 Things Every Photographer should know about HDR Photography
Interesting facts about Me:


1.

   
I don't like cheese… unless it's on pizza, but only on pizza!
2.

   
I do not have a middle name. When I was yelled at as a kid it sounded like "BLAKE … RUDIS". There was a dramatic pause after Blake as if my Dad wished he'd given me a middle name.
3.

   
I was on an HGTV show called "Superscapes". I had 15 seconds of fame building a driftwood sculpture.
4.

   
I used to be an FAA certified Master Parachute Rigger. Really, the plane is not as "perfectly good" as people make it out to be, but the chute is :)
Please feel free to contact me.  I also am available for speaking 
engagements at camera clubs, workshops and one on one coaching.